The First of Many activities at the Maison Dieu (Dover's Historic Town Hall)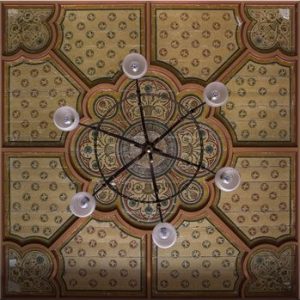 Fun starts with Heritage Open Days on 18/19 September!
An exciting phase of the National Lottery funded Maison Dieu development project is about to begin with an action-packed programme of events, workshops and skills-based training to connect people of all ages and backgrounds with Dover Town Hall.
Hundreds of events are planned over the next five years – from an opportunity to chat to conservators as they clean and repair priceless furniture and paintings, to heritage craft workshops and archaeological digs where members of the public can pick up a trowel to uncover evidence from the building's long and colourful history.
An annual Festival of Arts will showcase local theatre, music, dance, and art. Themes including a theatre performance of Dover history inspired by stained-glass windows in the Stone Hall, storytelling in the Victorian prison cells and a Bonkers Burges! theme to encourage young people to create fantastical objects inspired by those of Victorian architect William Burges.
Many of the activities target local hard to reach groups, from work placements with contractors working on the building to a Festival of Skills for young people looking to enter the world of work.
The public are also being encouraged to share personal memories of the Maison Dieu, from tea dances to wrestling, or to help research its more distant past, including its use as a medieval pilgrim hospital. In person and virtual tours and a new interpretation scheme are also planned.
A new website, William Burges Society and online archive will make the story of the Maison Dieu and its accomplished Victorian architect and designer available online and link it to other important Burges sites around the world. A fly-through digital tour is also planned and the restoration of the building will be captured by local amateur photographers working alongside an industry expert.
Other exciting events include Dover's History at Night where the Maison Dieu will partner with other local heritage sites to provide a spectacular evening of after-dark entertainment and light projections.
Health and wellbeing is high on the agenda, with the team working with local community groups to create walks and cycle routes to Canterbury and the Continent inspired by medieval pilgrims.
Volunteers of all ages and backgrounds are needed to help deliver these activities, to act as welcomers or guides, take photographs, or promote events on social media. If interested in volunteering or if your community group or school would like to get involved, please email Martin Crowther, Maison Dieu Engagement Officer at martin.crowther@dover.gov.uk
Martin Crowther, Engagement Officer at the Maison Dieu commented: "This is a wonderful opportunity for local people of all ages and backgrounds to get involved with their town hall in so many different and creative ways – to have fun, learn new skills, meet new people and build friendships. This incredible building has been at the heart of Dover for almost a thousand years this project builds on this fine tradition, providing a welcoming, accessible, newly-refurbished and better-interpreted venue for all."
The fun begins on Saturday 18 and Sunday 19 September when the building opens from 10pm to 4pm for Heritage Open Days. Visitors of all ages will be able to enjoy a free behind the scenes building tour, see recently-discovered William Burges designs, make and stamp their own Burges stencils and even meet the esteemed architect himself!
More information at
Action-packed Activity Programme Begins at Dover's Maison Dieu
To attend one of the free guided tours of the Maison Dieu on 18 or 19 September, book online.