We're running guided tours all summer
We'll be adding tours on a regular basis, so check back to see if there's one near you. We're running tours across the country throughout the summer.
More information is available at
https://www.cwgc.org/our-war-graves-your-history/what-s-happening-near-you/
This is your chance to discover more about your local heritage and to learn more about the First and Second World War casualties commemorated near you, as well as our work in the UK and further afield, and the work of the Commonwealth War Graves Foundation, and how you can support their work.
CWGC Tours – Dover (St James) Cemetery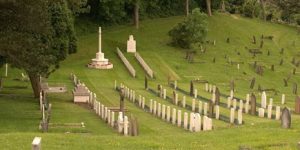 Monday 13th September 2021, 11am to 12noon
Monday 13th September 2021, 2.30pm to 3.30pm
Tuesday 14th September 2021, 11am to 12noon
Tuesday 14th September 2021, 2.30pm to 3.30pm
Meeting Point: Dover St James Cemetery Entrance.
Tours will start promptly, please be there in plenty of time.
     During the First World War, Dover was a port of embarkation for troops bound for the Western Front and between August 1914 and August 1919 some 1,300,000 Commonwealth sick and wounded were landed there.
There are 387 identified burials of the 1914-1918 war here. In addition, there are 19 unidentified burials, 9 of whom can be named as victims of the Zeebrugge Raid, and these 9 are inscribed on a Special Memorial on the Cross of Sacrifice in the Zeebrugge Plot.
In 1940, Dover was the headquarters for the evacuation of the British Expeditionary Force from Dunkirk and nearly 200,000 of the 366,000 British and Allied troops brought back during the operation were landed there.
Most of the 356 Second World War burials are contained in a special war graves plot at the far end of the cemetery.
The site is varied. Wheelchair access is possible for part of this tour only but does it does involve a steep hill on road. Off road is steep hillside with rough ground and roots.
Note there are four cemeteries in this locality.
Please dress appropriately for the weather and bring a water bottle with you if needed. We will not be able to provide refreshments.
To book tickets
https://www.eventbrite.co.uk/e/cwgc-tours-dover-st-james-cemetery-tickets-161447699415