Dover District Council have proudly announced the completion of the new "Eye-catcher" Bridge at Kearsney Abbey.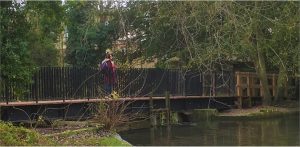 A new bridge has restored the historic lakeside circular walk in Kearsney Abbey thanks to funding from the National Lottery Heritage Fund and the National Lottery Community Fund.
The new pedestrian bridge across the weir at the eastern end of the lake is the latest phase of the £3.1m Parks for People project.
Originally, the estate's boundary walls extended across this part of the lake and featured a castellated 'eye-catcher' with three arches spanning the weir. The masonry remains still form popular "stepping-stones" for those who don't mind getting their feet wet!
The new 14m bridge has a steel superstructure and a timber non-slip deck surface. It is designed for pedestrian use only whilst also providing improved access for wheelchair and mobility scooter users. A new boardwalk connects the bridge with the existing network of paths around the lake, which have also been resurfaced.
The plans for the bridge were developed in consultation with the Environment Agency.
Cllr Oliver Richardson, cabinet member for environment and corporate property, said: "As well as restoring part of the original landscape design, the new bridge improves access so that even more people can enjoy the parkland views from this focal point on the lake."