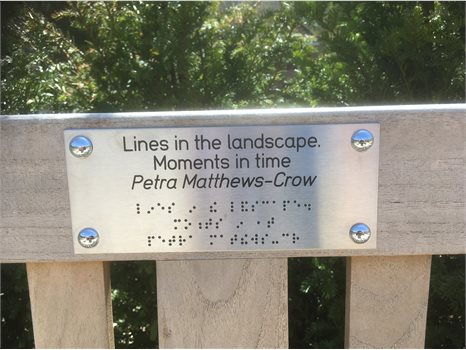 Connect with Nature in Mental Health Awareness Week
Sitting on a park bench has always been a place for quiet reflection and now visitors to Kearsney Abbey and Russell Gardens can pause for a poetic interlude as we mark Mental Health Awareness Week, with this year's theme, Connect with Nature.
A series of ten plaques each with a line of poetry, both as words and in braille, have been added to benches in Kearsney Abbey and Russell Gardens as part of Art in the Park: Kearsney Interpreted, a creative collaboration with Dover Arts Development (DAD) and funded by the Arts Council.
Local poets, visual artists and musicians contributed to the Park Bench project, taking their creative inspiration from sitting on a bench in the parks.  The works were brought together into a video with an original soundtrack by Dover Arts Development.
The lines of poetry engraved on the park benches were chosen by Year 9 pupils at Astor College and were contributed by local artists Sophie Aunger, Fiona Beddow, Richard Bundy, Paul Dagys, John Fuller, Chevonne Lane, Robert Marsh, Petra Matthews-Crow, Simon Partridge, and Gavin Wright.
Jennifer Coller, Kearsney Parks Project Manager, said: "The past year has underlined how important our parks and open spaces are to our mental well-being.  There's nothing like a stroll through the park or a moment of reflection sat on a park bench to clear the mind.
"We're delighted to have worked with the Arts Council and Dover Arts Development to use the Kearsney Parks as a canvas for local artists.  We hope the benches will inspire others to discover the parks and unleash their creativity."
Joanna Jones, Director of the Park Bench project and of Dover Arts Development, with artists Clare Smith and Louisa Love, said: "It's wonderful that poetry created within the Park Bench project will continue to give pleasure and inspiration on a daily basis in Kearsney Abbey and Russell Gardens."
Alongside the Park Bench project, Art in the Park: Kearsney Interpreted also features 10 artist residencies designed to explore the landscape designs, ecology, social and industrial heritage of the parks.
Featuring a number of recently graduated and early career artists from the local area, the residences leave a legacy of art, sculpture, poetry, and films that can be enjoyed by visitors to the Kearsney Parks for many years to come.
Press Release from Dover District Council on 10th May 2021