Update February 2021
Alan Lee
The access steps to the river, situated adjacent to the new River Education Centre at Buckland Bridge, have now been completed after months of wet weather. The ground water levels remain very high, one of the highest for some years. The stream is even running out of the chalk cliffs onto the seashore, this is most unusual as there has been so much rain. A short video can be seen on Our Finest Dour Click on link.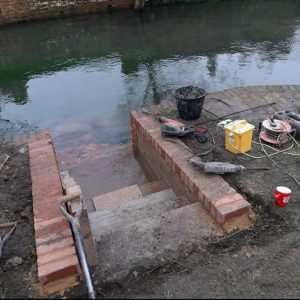 The Steps Just Before Completion
Led by Iona Dubieniec, Landscape Partnership Officer, White Cliffs Countryside Partnership the project was funded with the aid of Dover District Council and Dover Big Lottery. It is part of a three year scheme with Affinity Water and the National Lottery Heritage Fund to enhance and educate local people about the river, its bio-diversity and the surrounding environment.