Castle Hill House
At 4pm on Sunday 11th September 2022 at Castle Hill House a short ceremony took place to unveil a our latest blue plaque to date, in recognition of the role, over the years, that the building has played in the history of Dover.
Our Chairman Jenny Olpin and Martyn Webster, responsible for planning and organising the production of the plaque, gave short speeches before the plaque was unveiled by the Town Clerk, Alison Burton. Many of the 25 people present are Dover Society members.
The Dover Society would like to thank David Penn for his work on installing the plaque in its present position, for which he refused to accept any remuneration for his services. We are truly grateful.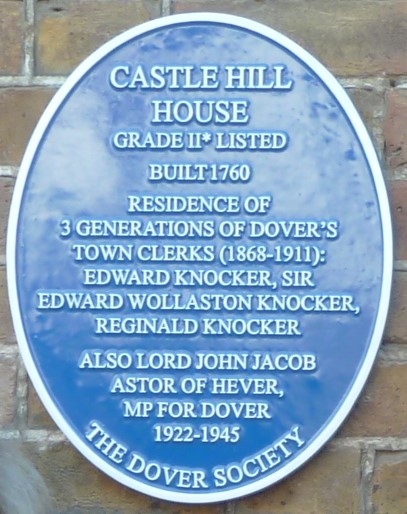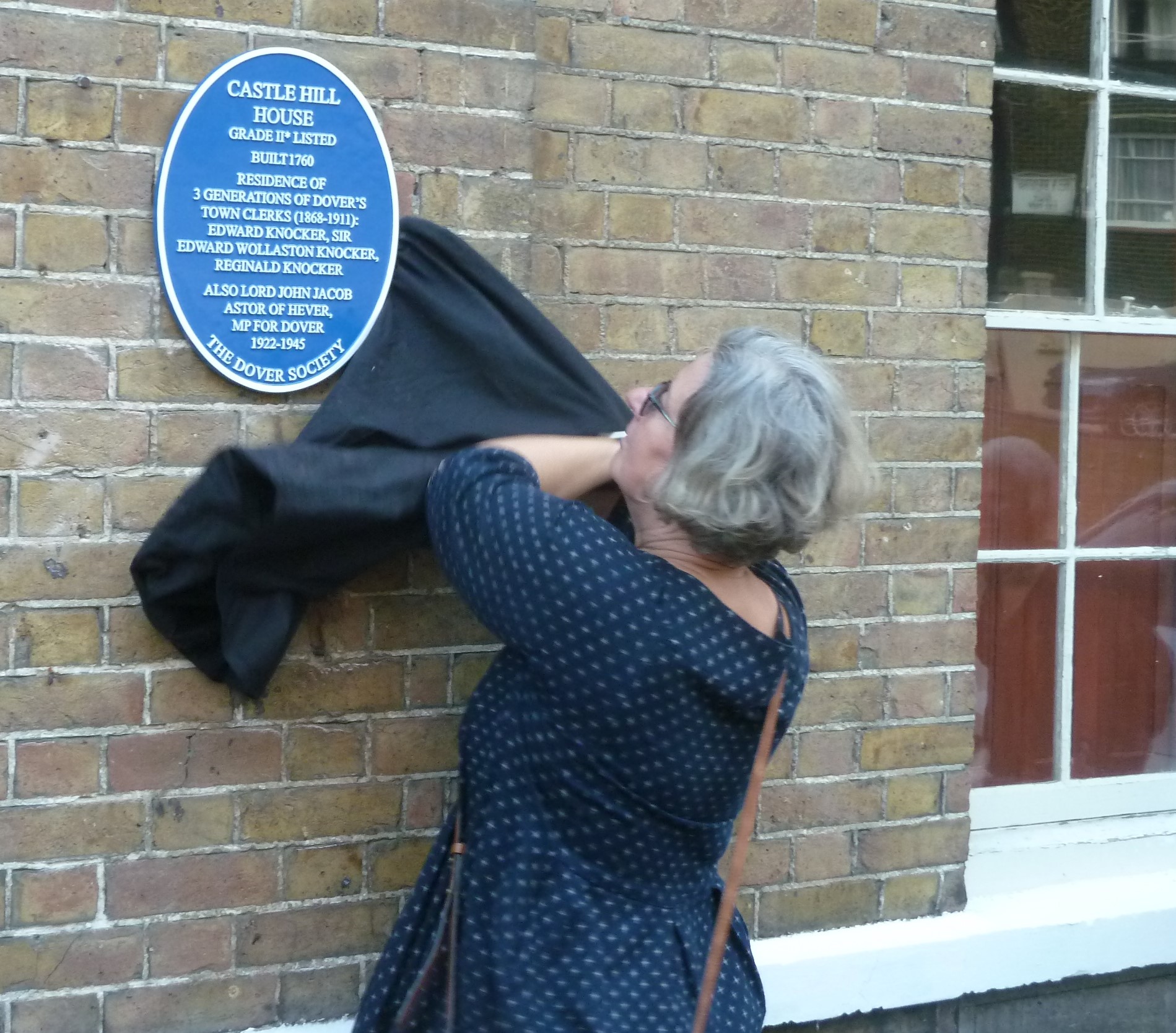 Allison Burton – Dover Town Clerk – Unveiling Plaque
The plaque is on the wall of Castle Hill House which is situated in St James Street at the bottom of Castle Hill Road.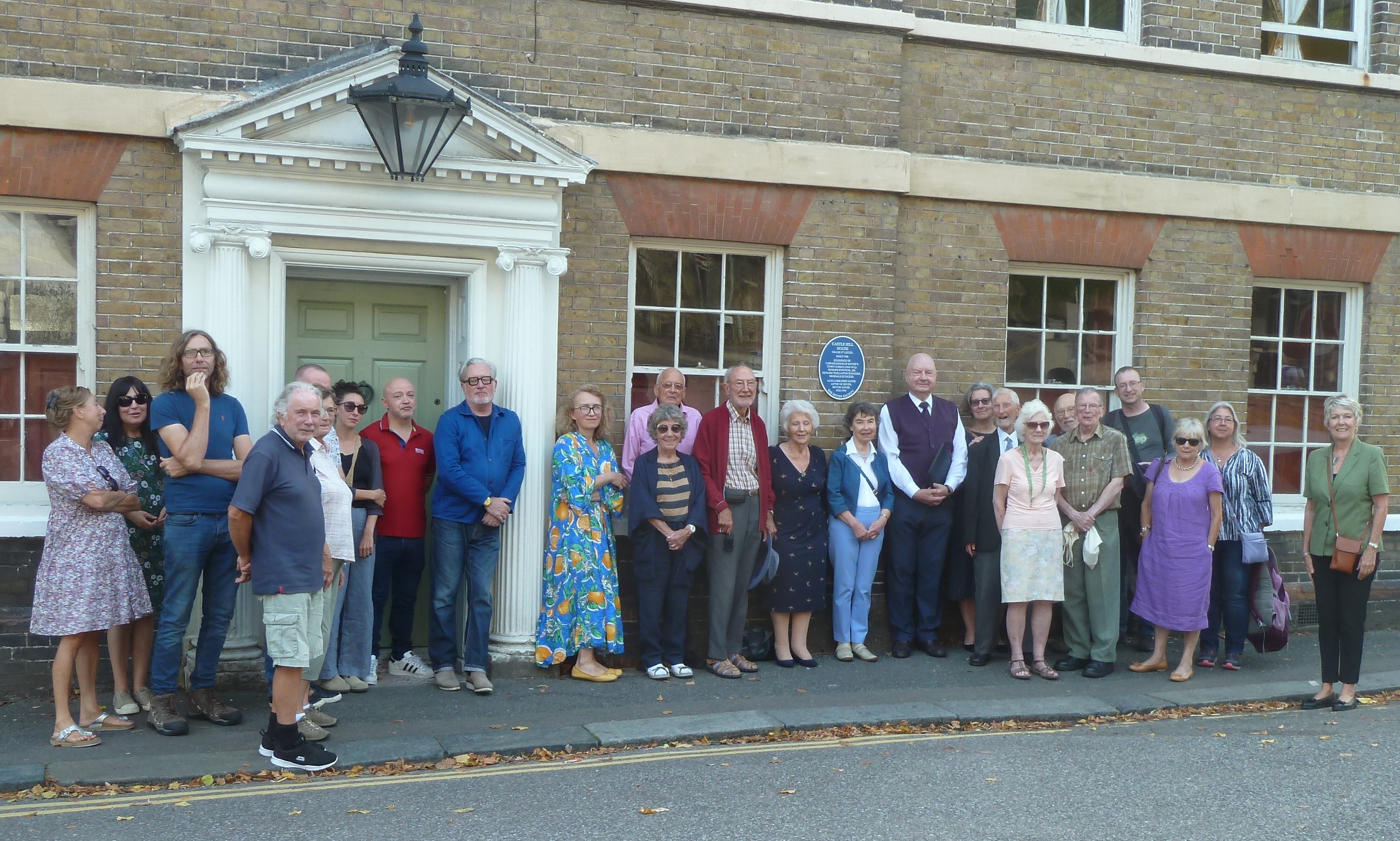 Attendees at the plaque unveiling on 11th September 2022.
Castle Hill House
Phineas Stringer senior bought the land to build Castle Hill House, but it was not completed until 1760, three years after his death. Originally it was surrounded by parkland and included stables and a gardener's cottage.
Phineas Stringer junior inherited the estates in 1782 and was elected Mayor of Dover 1782-83. He was married to Affra Rouse whose father, Richard Rouse, had been the mayor 1748-49.
It is thought that Thomas Jefferson, later to become the US President, stayed there twice for a few days in 1786.
Phineas junior died in 1801 and his son George Stringer inherited and moved into the house. George was Mayor of Dover 1801-02, 1815-16 and 1826-27, He had sold the house to John Jeken, who was the Town Mayor 1822-23, who then sold the house to Councillor Charles Lamb, (became Mayor in 1852-52), in 1829. In 1832 it was bought by Edward Knocker, Dover Mayor 1870-71
Over the years three generations of the Knocker family resided at the property and all became Dover Town Clerks.
Sir Edward Knocker, town clerk for many years and Dover Mayor 1870-71. Became Chairman of the Antiquarian Society.
His son Edward Wollaston Knocker appointed town clerk in 1884. He died at 2am on Sunday 22nd September 1907 and immediately all the flags in the town were lowered to half-mast. A day of public mourning was held on the day of his funeral. He was buried in the family vault at Cowgate Cemetery.
On 9th October 1907 Woolaston Knocker's son Reginald Edward Knocker was appointed to fill his father's position. The job of the Town Clerk was then divided, creating the post of Borough Accountant. Reginald was Town Clerk until he retired in 1935.
In 1913 he had moved 69 Castle Street and Kent Coal Concessions, owned by Arthur Burr, moved into Castle Hill House. That same year he had received the Freedom of Dover and he was also removed as a director of the company. In December 1917 Burr was declared bankrupt and died in September 1919. In 1922 Kent Coal Concessions was taken over by the Channel Steel Company. In 1925 their directors applied to reduce the capitol and after an appeal, in 1926 Kent Coal Concessions vacated Castle Hill House.
The house was sold early in 1928 and, after a full refurbishment, The Dover Labour and Trade Union club as their headquarters, was officially opened on 28th July by Jack Hayes, the first Labour Member of Parliament in Liverpool. The club stayed until June 1933 when the Party was forced to sell the building.
Rowland and Rowland, wholesale grocers, bought Castle Hill House, built new offices and warehouses in the gardens and near the end of 1934 rented out Castle Hill House to become a night-club known as Rennie's Club.
In February 1935, the Club was subject to a police raid and the Secretary was fined £50 with £10 costs for selling intoxicating liquor outside of permitted hours.
The Club closed and Castle Hill House was bought by Dover's Member of Parliament (1922-1945), Major, the Hon. John Jacob Astor, as his constituency home. It is said that both Neville Chamberlain, British Prime Minister (1937-1940) and Winston Churchill, British Prime Minister 1940-1945), stayed at Castle Hill House during these troublesome times.
During World War II (1939-1945), the House was used as a welfare centre for troops and although the surrounding area suffered severe war damage, it survived relatively unscathed.
Major Astor decided not to stand in the post-war election of 5th July 1945 and on 10th May 1946, let Castle Hill House to the local Conservative Party.
On 30th June 1949 the building was given a Grade II listing. Created Baron Astor of Hever in 1956, Lord Astor died in 1971 and bequeathed the House to the Conservative Party. On 8th December 1994, the building was put up for sale when it was noted that both Winston Churchill and Margaret Thatcher had visited the House.
The building was bought by Robert Adams, of the old established firm Adams Printers of Dour Street and son of the local historian, Budge Adams. Robert undertook considerable renovation before putting the house on the market. A film director and his wife, who is an executive with Fox Films, then bought the house. They planned to carry on with renovations that would have resulted in an upgrade of the Listing. Unfortunately, during the time the house was on the market a car-wash had opened, without planning permission, adjacent to the building and the wash was causing structural damage. Dover District Council Conservation Officer was called in to investigate and when the car-wash company finally applied for planning permission, his report strongly advised the Planning committee not to give permission to the industrial car-wash. But they ignored his report and granted permission.
Although the owners of Castle hill house were unsuccessful with their appeal against this decision the car-wash subsequently closed down.
Castle Hill House was originally Grade II listed on June 30th 1949 but on September 22nd 2014 this was upgraded to Grade II*.
For a full account of the history of Castle Hill House please click on the link below to the article by Lorraine Sencicle on her Dover Historian website.