Conserving the Maison Dieu's Unique Collections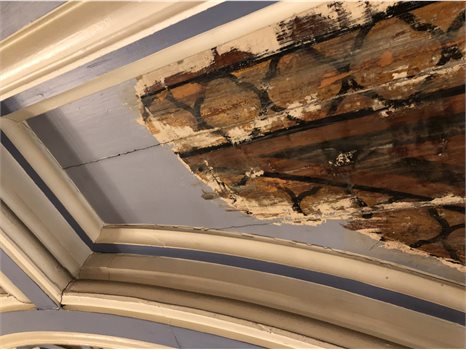 (Picture caption: Elaborate decoration to the ceiling panels in the Connaught Hall has been discovered by expert conservators) 
Two of Britain's leading conservation experts have been appointed by Dover District Council to work on the £9.1m National Lottery Heritage Fund restoration of the Grade I Listed Maison Dieu in Dover.
Bainbridge Conservation will undertake the restoration of the Maison Dieu collections, including furniture, paintings, regimental colours, and artefacts which reflect the importance of the building and the role it has played in the history of England.
The Maison Dieu houses a unique collection of furniture designed by William Burges and Edward Pullan. Whilst rare examples of his furniture exist elsewhere, Burges did not design any other furniture specifically for civic use.
Alongside conservation of the collection, a programme of activities will provide opportunities for local people to get involved with opportunities for training, volunteering and skills development that will safeguard the future of the Maison Dieu collection and Dover's wider heritage assets.
There will also be opportunity for members of the public to see expert conservators at work in Dover's very own 'Repair Shop'!
Meanwhile, Hare & Humphreys, one of Britain's leading specialists in the painting, gilding, conservation, and decoration of historic buildings is working to investigate the extent of William Burges' original decorative scheme in the Connaught Hall and Mayor's Parlour.
The team from Hare & Humphreys have already revealed exciting new finds, including elaborate decoration to the ceiling panels in the Connaught Hall some of which shows signs of gold leaf to the borders.
In 2001, Hare & Humphreys were honoured with the Royal Warrant as Decorators and Gilders by appointment to HM Queen Elizabeth II following the company's work on the restoration and decoration of Windsor Castle.
Roger Walton, DDC's Strategic Director, said: "We're delighted to be working with Bainbridge Conservation, and Hare & Humphreys, as we start the detailed plans for the restoration of the Maison Dieu.
"It's going to be one of the most exciting restoration projects ever undertaken.  Already, we're making some remarkable discoveries about the true splendour of the Maison Dieu's interiors."
Tristram Bainbridge of Bainbridge Conservation, said: "We are delighted to be part of the team delivering the restoration of this amazing collection of furniture and works of art. We're also looking forward to showing people our work, which is normally behind the scenes, but for this project will be front and centre."

Notes to editors:
The £9.1m reawakening of the Grade I Listed Maison Dieu will see the restoration of internationally significant decorative schemes by the renowned Victorian neo-Gothic architect, William Burges, a new street-level visitor entrance to the Connaught Hall, along with improved access throughout the building.
The project creates a sustainable future for the Maison Dieu by bringing redundant spaces back into commercial use, including restoring the Mayor's Parlour as a holiday let in conjunction with The Landmark Trust, and a unique new café in the space once occupied by Victorian gaol cells.
Once complete in 2024 the Maison Dieu will be permanently open to the public for the first time in its 800-year history and contributing to the creation of a heritage quarter in Dover town centre.
Project funders/partners include the National Lottery Heritage Fund, The Wolfson Foundation, The Landmark Trust, Dover Town Council, and the Dover Society.
Posted on 08 April 2021
Update June 2020 – A Lee from a report by Derek Leach
Following a vast amount of detailed work over the last 18 months the required report to the National Heritage Lottery Fund, totalling 1800 pages, was submitted before the 1st June deadline. We should hear whether we have been successful in securing the major grant sometime in October. At long last this would allow the refurbishment work to begin in earnest once contractors are appointed. It is expected that the Town Hall would have to be closed from September 2021 for up to two years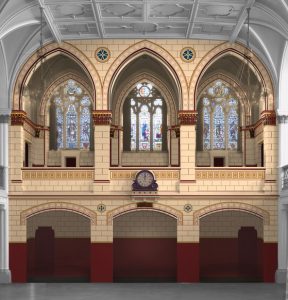 Dover Town Hall Project – 21st March 2020
As you know, The Dover Society has been involved as a partner with Dover District Council and Dover Town Council since the project was first mooted in 2010. As a partner we have pledged £10,000 toward the cost and our Town Hall Fund has met this target. Income from the guided tours organised throughout this time with Society and Dover Greeters volunteers has made a substantial contribution to our Town Hall Fund as well as making Dovorians and visitors to the town more aware of this fantastic building and its 800 years of history. Now we wait patiently and hopefully to start the next phase in its long life.
The Dover Society's decision in 2011, supported by Dover District Council and Dover Town Council, to organise guided tours of the Town Hall had the aim of making the local community and visitors to the town more aware of the building's 800 years of fascinating history and its architecture. It was intended as a precursor to a major Heritage Lottery Fund bid to assist in the much needed restoration of the building, as far as possible, to its Victorian glory.
A desire to restore an historic building is not, unfortunately, sufficient reason to merit a heritage lottery grant. Any such grant application has to include, amongst other criteria, proposals for a sustainable future use. Consultants were appointed and following consultations and workshops with the community an exciting project costing some £13 million emerged. A £10 million Heritage Lottery Fund bid was submitted in December 2016, but was unsuccessful despite Dover District Council, Dover Town Council and The Dover Society pledging a substantial sum. HLF was keen on the project and said that we had a strong case, but insufficient funds were available. We were advised to resubmit the application in December 2017 but by then HLF had imposed a £5 million maximum for any grant. We decided to retain virtually the whole scheme,but divided it into two phases for grant purposes. A £4.7 million grant application to the HLF for the first phase,covering mainly the repair and construction work, was submitted in March 2018. This was successful in July, allowing us to proceed to a funded development phase to produce detailed plans for HLF approval.
In the meantime, the Society, with a dedicated band of volunteers, continues to offer guided tours
every Wednesday from April to October. Since 2011, 1150 people have enjoyed tours with entrance fees and donations received totalling £1900. Several times that number of people have refused a tour but have had a free look round the Stone Hall – we do not allow them to go any further unescorted in case they get lost!
A constraint is that we have to work around other Town Hall activities at the same time – the weekly afternoon tea dance and two regular monthly lunch bookings.
Most of our visitors are 'casual' turning up on the day – local people, cruise passengers or others from the UK or abroad – but we also cater for prebooked groups either on a Wednesday or another day, avoiding commercial events. Groups have included two coach loads from the Historic Houses Association when we guides had to be on our toes with these enthusiasts and their complex questions! The Town Hall operator often benefits from these visits when lunch or refreshments are required.
We have attractive publicity leaflets available at the Town Hall, the Town Council offices and Dover Museum/Visitor Information Centre and the Library. We also advertise on websites such as Visit Kent and in the Kent History Journal. On sale are sets of specially produced postcards of the six glorious stained glass windows in the Stone Hall. During 2013 requests for a guide book were satisfied by producing a very attractive 32 page full colour guide cum history, which is also available in the Museum shop .It was financed from the Society's publication fund but the cost will be recouped from sales. Any profit will go into our Town Hall Restoration Fund which has benefited from a generous donation of £1,000 from Jack Woolford as well as from income on shares donated to the Society.. The Fund now totals over £10,000.
The Society has agreed in principle to donate £10,000 toward the project to restore the Town Hall and increase its use.
by Derek Leach
The Maison Dieu
The Maison Dieu or Domus Dei – meaning House of God, in both its Norman French and Latin forms – was founded in 1203 by Hubert de Burgh, Constable of Dover Castle and Earl of Kent.
The Maison Dieu and its large grounds were built as a hospice, run by monks, to provide temporary lodgings for travelling pilgrims and for the care of wounded and destitute soldiers and old people.
The monks soon added stables, a bakery, a brewery, farmlands and orchards. When Henry III consecrated the chapel in 1227 he was the first in a long line of monarchs to visit the Maison Dieu, later to include Edward II, Edward III, Richard II, Henry V and Henry VI. The monks were evicted in 1544 during the reformation and the Maison Dieu and its lands were given to the Navy for use as a Victualling Store, which supplied the English fleet for 300 years, from the time of the Spanish Armada to the Battle of Trafalgar.
A magnificent suite of four beautiful historic rooms to seat from 10 to 500 guests, Dover Town Hall is a unique historical setting for special occasions and popular venue for civil marriage ceremonies.
Connaught Hall was originally opened in 1880's as a concert and meeting hall very much Victorian with pillars and balconies and a magnificent dance floor.The hall is currently used regularly for tea dances, exhibition, concerts, dinner/dances and shows.
The hall can seat 500 theatre style for a show or concert and 300 cabaret style for dinner/dances with a good size dance floor.