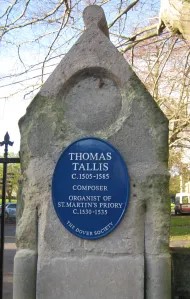 The plaque to Thomas Tallis was unveiled by Dover College headmaster Gerry Holden on 7th March 2014. The Society thanks builder John Hill who fixed it without charge.
Mr Holden gave a brief history of Tallis and his links with Dover Priory and cited the college's high reputation for music and the naming of the college's music centre after Tallis. A group from the college provided an enjoyable musical madrigal interlude, composed by Tallis. Today he is among the most performed and respected composers of Tudor England.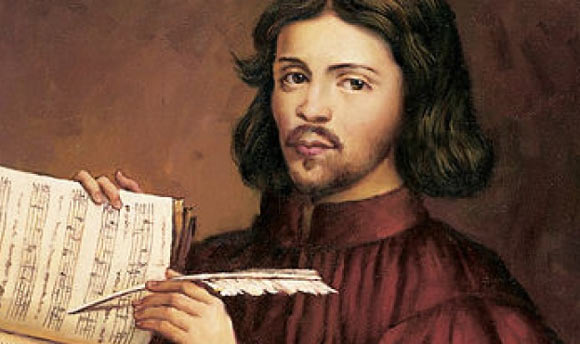 Thomas Tallis
Thomas Tallis was born in Kent in 1505 but little is known about him before 1532 when he was appointed organist at the Benedictine priory (Dover Priory), in the grounds of which Dover College is now situated.
It is believed that his earliest known work Missa Salve Intemerata dates from 1525.
Through the Act of Supremacy of 1534 Henry VIII instigated the Dissolution of the Monasteries. This meant that all the monasteries, priories, convents and friaries in England and Wales were closed down. Dover Priory ceased to exist on 16th November 1535.
By 1537 Thomas was in the choir at St Mary-le-Hill in Billingsgate, London before moving on to the Holy Cross Abbey, Waltham, Essex until this was dissolved in March 1540. He then accepted a post as a clerk at Canterbury Cathedral and became a member of the choir. The three years became a lay singer (gentleman) of the Chapel Royal an  establishment of the Royal Household. Within the Chapel Royal his duties included the musical education of all three of Henry's children, Edward VI, Mary I and Elizabeth II.
He married widow Joan Bury during the reign of Mary I, they lived in Greenwich. And he remained a member of the Chapel Royal for the rest of his life, becoming the choir's most senior member but still remained true to the Roman Catholic faith.
As his earnings increased, he was given leases of property, mainly in east Kent. Although the Chapel Royal music books of that period have not survived experts have managed to identify when most of the compositions were written.
Thomas died on 23rd November 1585 in Greenwich and is buried at St Alfege Church, Church Street, Greenwich, London.