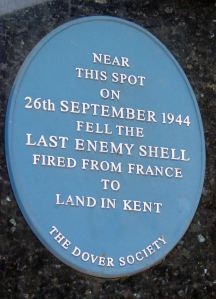 This second of the original 10 Dover Society Millennium Plaques and was unveiled in Mid-February 2000 just three days after the first and is situated on the wall of the Dover District Council Gateway Offices at the lower end of Castle Street.
This marks the spot where the last of thousands of shells fired from German guns in occupied France fell on Dover in September, 1944. It marked the end of a reign of terror for Dover that began in 1940.
Near the end of September allied troops were descending on the German gun emplacements in and around Calais. The Germans decided to use as much of their ammunition as possible and so begun indiscriminate shelling of the town. On Tuesday 26th September the shelling started at 2am and the last shell fell at 7.15pm. It hit Hubbard's umbrella shop in Castle Street, destroying it and adjacent premises. That day over 50 were fired at Dover, killing five people.
Perhaps the most tragic death on this day was 63 year old Mrs Patience Ransley. She was in an underground shelter which ran from Snargate Street to Durham Hill. But the shelter was hit by a one ton shell which penetrated the shelter killing this poor lady.
Alan Lee