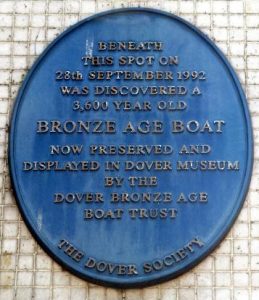 The fourth of the original 10 Dover Society Millennium Plaques and was unveiled on Monday 17th April 2000 [the second of two that day]. It is situated above the entrance to the underpass as you leave the Market Square for the seafront.
It was here, on 28th September 1992, that the world's oldest known seagoing boat, constructed of wood, was unearthed by archaeologists beneath the corner of Bench Street and Townwall Street during excavation work on the A20 road link.
The Boat is roughly 3,600 years old and archaeologists estimate it would have been in use around 1,500 BC, during the Bronze Age.
Aware that the boat may disintegrate, the boat was cut into sections and reassembled it afterwards. This excavation work took nearly a month and the archaeologists successfully recovered 9.5 metres of the boat. They are not sure if they have recovered most of the boat or maybe many more metres are still underground, so the true length may never be known.
In December 2000, the Bronze Age Boat was awarded the British Archaeological Awards ICI Award 2000 in recognition of its contribution to archaeological knowledge.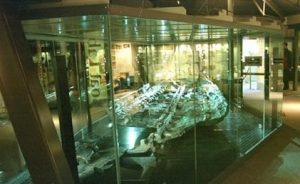 The Dover Bronze Age Boat Trust is a charitable organisation set up to manage the conservation and exhibition of the boat. In the first six years, from 1993 to 1999, they raised £1.6 million to fund this work. This prehistoric boat, after seven years of research and conservation, is on display in the acclaimed Bronze Age Boat Gallery within Dover Museum, in the Market Square.
As you stroll through the underpass towards the seafront you will notice the murals showing the progress in cross- channel travel over the centuries.
Alan Lee